Collection: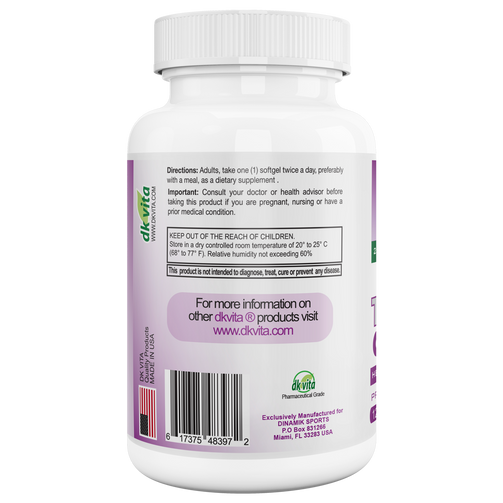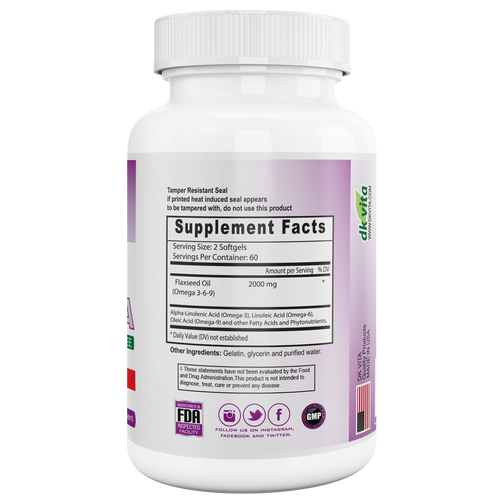 Collection:
Omega 3-6-9
Omega 3-6-9
Regular price

Sale price

$18.00
Tax included.
Shipping
calculated at checkout.
HEALTHY FORMULA - ESSENTIAL FATTY ACIDS
Omega-3 fatty acid (Alpha-linolenic acid) is an essential fatty acid that plays an important role in brain function and may help you fight against cardiovascular disease. Omega-3 is useful for supporting the following conditions: Asthma, High Cholesterol, Diabetes, High Blood Pressure, Arthritis, Attention Disorders, Osteoporosis, Depressive Disorders, Some Cancers, Skin Disorders, and Digestive Difficulties. Within the body omega-3, fatty acids are converted to DHA and EPA (docosahexaenoic acid and eicosapentaenoic acid, respectively). DHA and EPA are highly unsaturated fats that play very important roles in the vision development and brain function of infants. A lack of DHA has been associated with Alzheimer disease, attention disorders, cystic fibrosis, and other diseases
Omega-6 fatty acid (Linoleic Acid) combined with omega-3 fatty acid produces many of the health benefits described above, but you should be eating about twice as much omega-6 as omega-3, so that your omega-6 to omega-3 ratio is 2:1, but in today's world of fast food, frozen entrees, and high-calorie snacks, it is not uncommon for most people to actually be getting about 15 times more omega-6 than omega-3. Eating omega-6 and omega-3 in the wrong proportions may actually negate the health benefits. Maybe you should eat more Omega-3 fatty acids.
Omega-9, or monounsaturated oleic and stearic acid, is a non-essential fatty acid produced naturally by the body whenever there is enough of either Omega 3 and 6 essential fatty acids. However, if you do not have enough omega 3 and omega 6, then you must get omega 9 from your diet or from additional supplements. This fatty acid plays a role in promoting heart health by supporting healthy, balanced cholesterol levels and improving immune function.