Collection: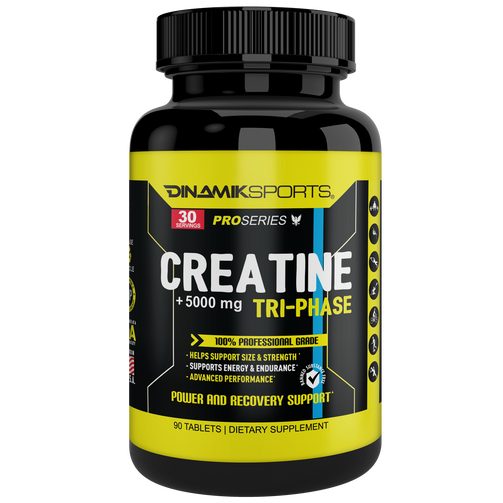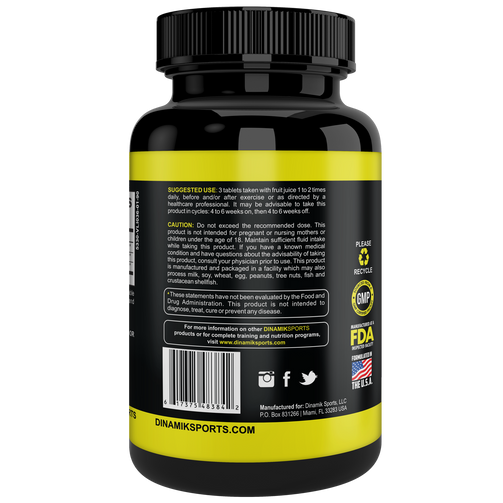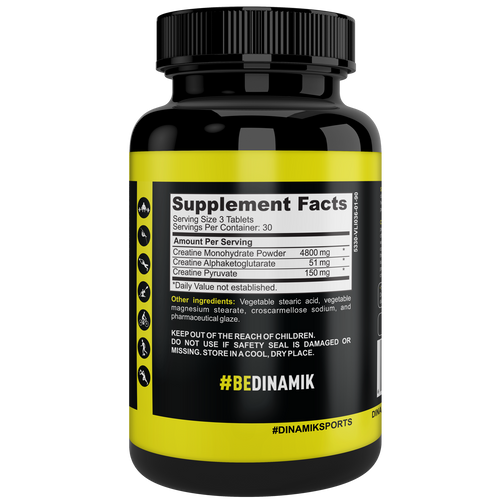 Collection:
Creatine TRI-PHASE 5000mg, 90 Tablets
Creatine TRI-PHASE 5000mg, 90 Tablets
Regular price

Sale price

$25.00
Tax included.
Shipping
calculated at checkout.
Creatine Tri-Phase contains three types of creatine in order to provide you with the best results possible. Creatine Monohydrate (4800mg), Creatine Alphaketoglutarate (AKG) (51mg) and Creatine Pyruvate (150mg).
Supplementing the body with creatine help increase stamina and reduce recovery time, getting much better results. Creatine produces real increases in muscle mass, strength and energy in a very short time. Most people produce only about 2 grams of creatine per day, and for this reason taking additional creatine supplements is fundamental while exercising.
Creatine Pyruvate provides a form of creatine that is bound to pyruvic acid. Once ingested, hydrochloric acid in the stomach splits the creatine and pyruvic acid into their ionic forms which allows each to be readily absorbed into the bloodstream. Because the ionic form of creatine does not have to be processed by the liver, much smaller amounts of creatine pyruvate can equal the same benefits realized by taking 5-6 times as much creatine monohydrate! While it is not our purpose in this formulation, pyruvic acid is often marketed as a weight loss nutrient.
When you supplement with creatine, fatigue may be reduced to help you get the most out of your workouts, Promote muscle growth through cell hydration, Enhance energy reserves, Promote Recovery, Optimize protein synthesis while minimizing protein breakdown
For best results, on training days, take creatine after your workout. It will not make you nauseous and is best taken at this time in order to replenish lost stores. If you wish to take more on a training day (i.e 10 grams), then take half pre-workout and remaining half post-workout. Studies have shown that you get a 65% greater cell uptake of creatine if you combine it with a simple sugar base, such as grape juice (naturally rich in glucose). A big insulin spike will push the creatine into the muscle.
Contains three types of Creatine in order to provide you with the best results possible
Creatine monohydrate is well known. Creatine AKG transports more Creatine directly into muscle cells resulting in a higher muscular Creatine concentration and strength; power performance is enhanced. Creatine AKG is appreciated for Creatine Monohydrate non-responders. Creatine Pyruvate is better soluble in water than Creatine Monohydrate and increases Creatine levels in your body. Improves the body's ability for muscle recovery, getting you your strength back faster after an intense workout.
Increase stamina and reduce recovery time, getting much better results. Creatine produces real increases in muscle mass, strength and energy in a very short time.
Reduce fatigue helping you get the most out of your workouts